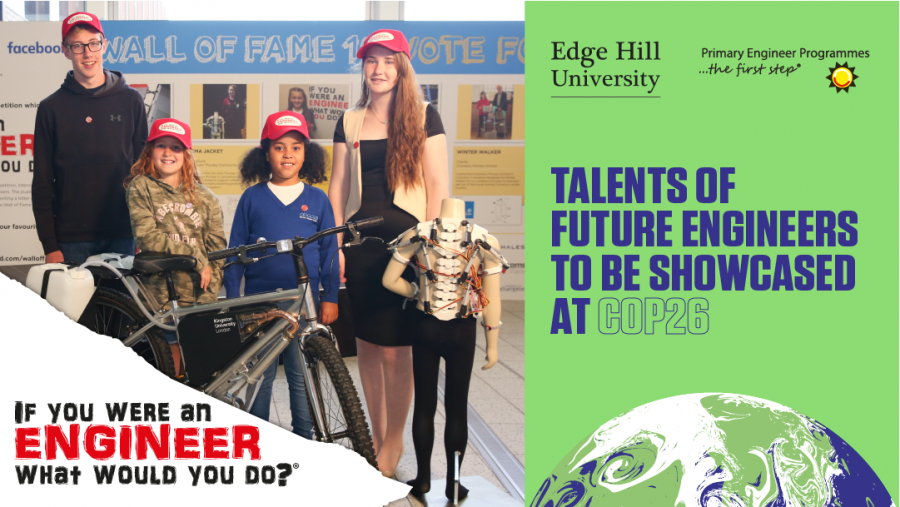 Talents of future engineers to be showcased at COP26
A national campaign to develop the next generation of engineers, supported by Edge Hill University, will be showcased on the world stage next month at the COP26 summit.
The University has joined forces with not-for-profit organisation Primary Engineer and its 'If You Were an Engineer, What Would You Do?' competition, to encourage children and young people to consider a career in STEM (science, technology, engineering and mathematics).
Each year, the competition sees tens of thousands of young people identify problems – large and small – and design engineering solutions to solve them.
The results from the competition will be presented as part of an exhibition during COP26, the annual United Nations climate change summit, on 7th November in Glasgow.
Professor Ray Sheriff, Associate Head of Engineering, Edge Hill University, said: "We are delighted to be working with Primary Engineer as the partner for Liverpool and Merseyside and Cheshire. We are at the early stages of establishing Engineering at the University and are very excited by the opportunity to engage with the region's primary and secondary schools and enthuse the next generation of engineers."
Primary Engineer will be attending COP26 as an exhibitor alongside Scottish Engineering and The International Network of Women Engineers and Scientists (INWEs).
Dr Susan Scurlock MBE, CEO and Founder of Primary Engineer, said: "We are truly delighted to partner again with Edge Hill University to inspire young people in the region to design creative engineering solutions to concrete problems they identify around them or in the world and which in turn inspire engineers.
"To be part of COP26 in Glasgow is a huge honour and we are delighted to have this opportunity to showcase the work of the children, pupils, teachers, students and engineers who have taken part in our programmes."
Edge Hill's Engineering courses offer students a chance to explore a whole host of areas and become a specialist in electronic engineering, robotics, intelligent automation or electrical engineering.
The University is home to a £13 million tech hub that includes a 3D Computer Augmented Virtual Environment (CAVE) and specialist labs with electronics, robots, and microprocessors.
The 'If You Were an Engineer, What Would You Do?' competition is free to enter and is open to all primary and secondary schools in the UK. Teachers can register online, and schools will be provided with resources and lesson plans to support the competition. For further information, please visit: www.leadersaward.com