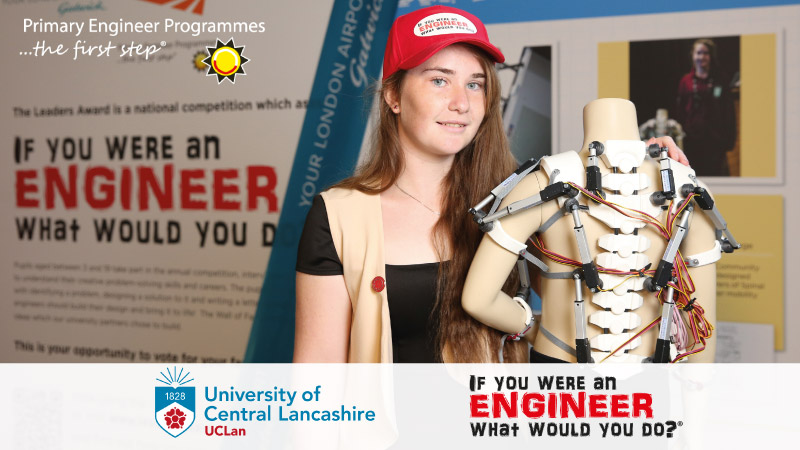 'If you were an engineer, what would you do?'
UCLan partners with Primary Engineer in a competition to bring children's engineering solutions to life
The University of Central Lancashire (UCLan) and Primary Engineer are to partner once again to help inspire local youngsters and spark their interest in engineering.
Primary Engineer is an educational not-for-profit organisation that provides programmes to encourage young people, aged between 3 and 19, to consider STEM (science, technology, engineering and mathematics) careers.
UCLan is the Lancashire partner for Primary Engineer's 'If You Were an Engineer, What Would You Do?' competition, which each year sees tens of thousands of young people identify problems – large and small – and design solutions to solve them. University engineering teams will then bring some of these ideas to life by creating working prototypes.
Previous entries to the competition – which typically receives a 50:50 gender split of entries – have included the development of the 3D printed exoskeleton jacket to help a child living with Spinal Muscular Atrophy (SMA).
As part of the competition, experts from UCLan's School of Engineering will be interviewed by the participants and will help to judge the entries from across Lancashire.
UCLan will host an exhibition of entries from local youngsters and hold a regional awards ceremony on campus next year.
UCLan's School of Engineering will also build a number of prototypes from selected winning designs by the children who entered the 2020/21 competition.
Dr Susan Scurlock MBE, CEO and Founder of Primary Engineer, said: "We are delighted to see our partnership with UCLan continue to grow with more opportunities for young people to see their ideas, which originate on paper take life in the UCLan engineering school, how can you not but be inspired!"
Professor Graham Baldwin, Vice Chancellor at UCLan, added: "Inspiring the next generation of young engineering minds is vital for our future prosperity. We are therefore delighted to once again partner with Primary Engineer and work alongside our region's talented youngsters. The ongoing development of our exoskeleton project demonstrates how exciting ideas can become reality with the potential to change lives."
Building on their strong collaboration, UCLan's School of Engineering and Primary Engineer are able to support UCLan's 'Engineer of the Future; from Primary School to Postgraduate'. This will include widening participation initiatives for pupils studying high school Science, Technology, Engineering and Maths (STEM) projects as well as a Continuing Professional Development (CPD) and Postgraduate Certificate programme for teachers.
The 'If You Were an Engineer, What Would You Do?' competition is free to enter and is open to all primary and secondary schools in the UK. Teachers can register online, and schools will be provided with resources and lesson plans to support the competition. For further information, please visit: www.leadersaward.com
Ends
Notes to Editor
The University of Central Lancashire (UCLan) in Preston was founded in 1828 as the Institution for the Diffusion of Knowledge. Since those early days it has grown into one of the UK's largest universities with a staff and student community approaching 38,000 and an employment-focused course portfolio containing over 350 undergraduate programmes and nearly 250 postgraduate courses. The University has an established research reputation with world-leading or internationally excellent work taking place within the areas of Business, Health, Humanities and Science.
As a truly global institution with an established campus in Cyprus, UCLan's student body includes 120 nationalities, and its partnership network extends to 125 countries. In 2021 the Center for World University Rankings placed UCLan in the top 7 percent of all worldwide universities.
The University has a strong focus on continually improving the student experience. According to the 2020 Student Welfare League Table, UCLan is ranked first for the money invested into student wellbeing services. Its soon-to-be-completed masterplan redevelopment has created an attractive and inviting, world-class campus in Preston which is helping to create jobs, kick-start regeneration and attract inward investment into the City.
University of Central Lancashire (UCLan) website: https://www.uclan.ac.uk/
Primary Engineer is an educational not-for-profit organisation which inspires pupils, parents and teachers through continued professional development courses, whole class project work, competitions, and engagement with engineering and STEM professionals to ensure the learning has a context to the wider world. Primary Engineer addresses the diversity and gender imbalance in engineering with an inclusive approach for early years, primary and secondary pupils across the UK.