SCOTTISH ENGINEERING LEADERS AWARDS HIGHLIGHT INSPIRATIONAL PROBLEM SOLVERS OF THE FUTURE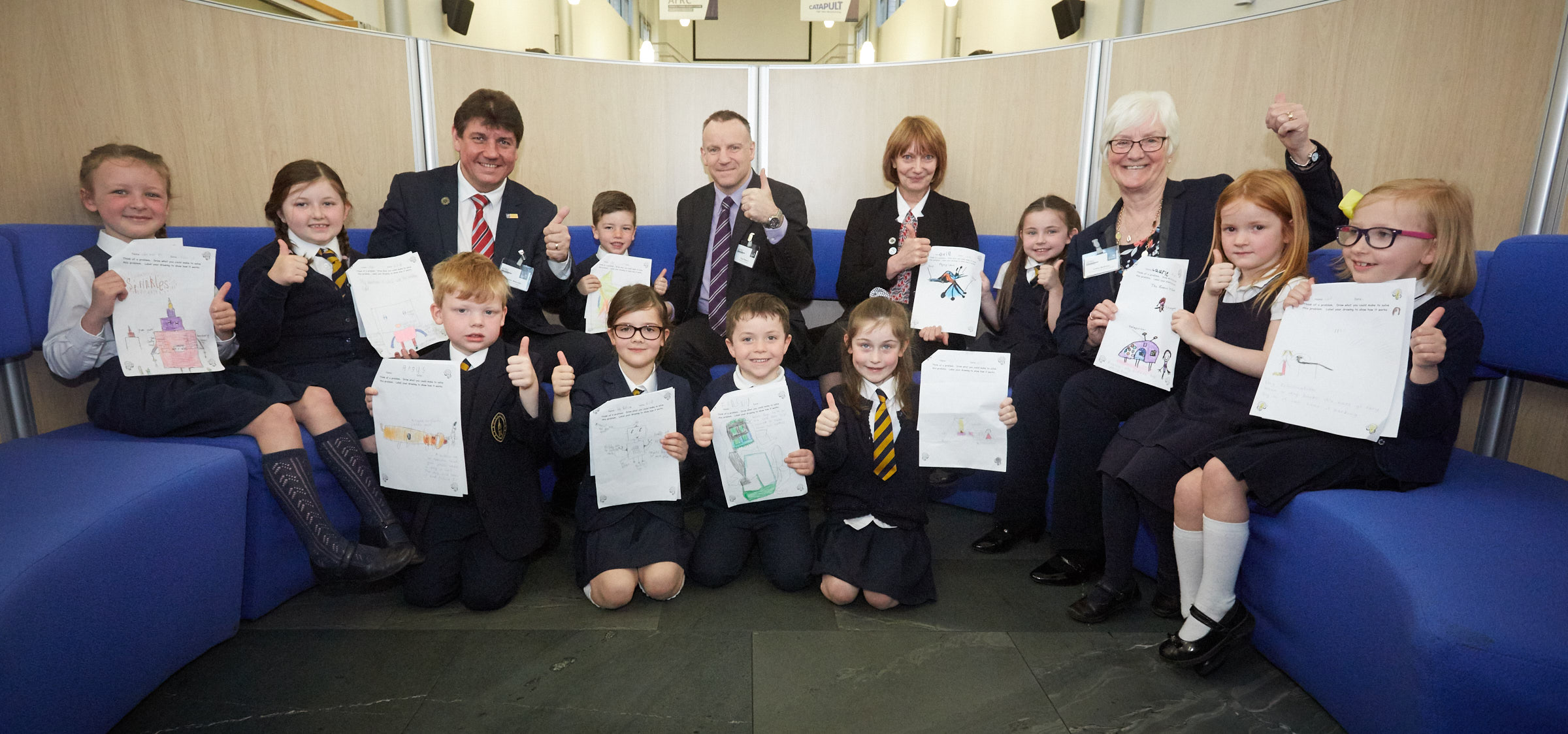 The Depute Provost of Renfrewshire, Cathy McEwan, has welcomed Stephen Metcalfe, MP on his inaugural visit to Scotland as HM Government Envoy for Year of Engineering. The visit came on the final grading day of the Scottish Engineering Leaders Award 2018, an innovative award that attracted more than 15,000 entries from 262 Scottish Schools. – some of the inventions will go on to be built by local colleges and universities.
Mr Metcalf, witnessed first-hand the innovative solutions to everyday problems created by the children aged between 3 and 18, as he reviewed some of the paper entries. He also met a number of entrants. He said: "The Year of Engineering is all about showing young people that engineering careers are creative, innovative and a chance to make a real difference. That's why we're delighted that Primary Engineer is supporting the campaign with its Leaders Award, which shines a light on the ingenuity, imagination and curiosity that make children natural engineers".
The Scottish Engineering Leaders Award challenged children to come up with creative engineering ideas in order to inspire young people and get them excited about STEM (Science, Technology, Engineering and Maths) based projects – – by asking them: 'If you were an engineer – what would you do?'
"And they certainly showed that they are not short of an idea or two!" said awards creator and founder of Primary Engineer Dr. Susan Scurlock who launched the annual competition five years ago, "The quality and number of entrants this year demonstrates that there is a resource of potential engineers in our schools who are ready to solve everyday problems right now, and able to learn the lifelong problem finding and solving skills that will meet the challenges of the future".
Primary Engineer is an organisation which helps teachers and school children participate in relevant and engaging STEM projects as part of their syllabus. It trains more than 2,000 teachers each year across the UK.
The 'world changing' drawings of inventions were graded by over 150 engineers from local companies over three days from 24th – 26th April across three college sites: Glasgow Caledonian College, Fife College, and AFRC (Advanced Forming Research Centre). The winners, which will be decided by a panel of high profile engineers will be announced at a ceremony on June 8th at The Barony, University of Strathclyde, Glasgow.
Supported by leading organisations from the engineering sector including: Scottish Engineering, the RAF, The University of Strathclyde, WEIR Group, Clyde Marine Training, Vascutek, Babcock International Group, Skills Development Scotland, Allied Vehicles, Cloch Solicitors and the Institution of Mechanical Engineers, the Scottish Engineering Leaders Award is engaging with the engineers of the future.
Paul Sheerin, CEO of Scottish Engineering said: 'Whenever I meet Engineers and STEM professionals that have given their time to support events like these, I'm always struck by the way they describe the extra energy that they leave with, having absorbed the output of a group of young people whose ambitions are as wide as their imagination. It underlines the broad value of the Primary Engineer programme, inspiring the young people taking part and also the Engineering professionals who return to their organisations with a spring in their step.'