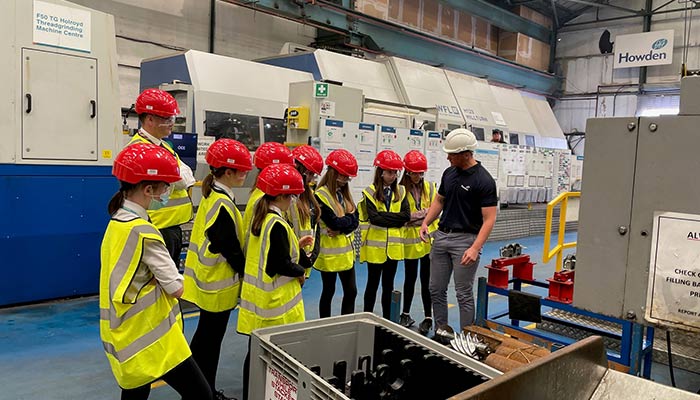 Howden become national partners with Primary Engineer to support schools across the UK with skills and education
Howden has signed a national partnership with PRIMARY ENGINEER® to bring engineering into classrooms across Scotland. This new partnership is only one of two in the Scottish region, which will play an important role to link schools into industry partners.
Primary Engineer is a not-for-profit organisation who have an educational approach to bringing engineering and engineers into primary and secondary classrooms and curricula. The programme aims to inspire children, pupils and teachers through continued professional development, whole class project work, competitions and exhibitions.
The Primary Engineer Leaders Award competition is a fully funded competition open to all schools across the UK, engaging pupils aged 3-19. The competition, which began in Scotland 10 years ago, links schools with inspirational engineering companies and asks pupils the question "If you were an engineer, what would you do?". The initiative encourages pupils to identify problems in the world around them and come up with creative solutions, embedding within them that innovative problem solving is a key part of being an engineer. Situated in Renfrew, Howden's global headquarters is ideally placed to support local schools and provide in classroom inspiration to pupils at all ages.
Last year, Howden launched their environmental and social Strategy aimed at promoting diversity of a global workforce and positive community impact. Their 'Bright Futures' community volunteering programme was launched to aligned with their social commitments to champion diversity, fairness and equality of opportunity. The Primary Engineer national partnership will help Howden to support disadvantaged and under-represented people in local communities realise their full potential and help build a more sustainable future for all through education and skills development.
"This is an extremely exciting partnership for Howden as we are committed to developing relationships with local schools to encourage more pupils to explore Engineering and STEM careers paths. We believe this can unlock a long and successful future for school leavers. We are also passionate about contributing to gender diversity in apprenticeship programmes; as females currently make up less than 18% of higher apprentices in engineering and manufacturing. This partnership reinforces our commitment to our sustainability and social programme and gives us an opportunity to celebrate our current engineers and empower them to inspire the next generation of engineers."

Emma Cunningham, Leader of the Bright Futures Programme and Managing Director of Howden Compressors
"Primary Engineer are delighted that Howden have joined with us this year to support Leaders Award as we celebrate 10 years of the competition. This partnership provides more opportunities for pupils to engage with inspirational engineers and learn more about the vast world of engineering and the incredible companies operating right on their doorstep and beyond."

Rowan MacLean, Head of Partnerships in Scotland