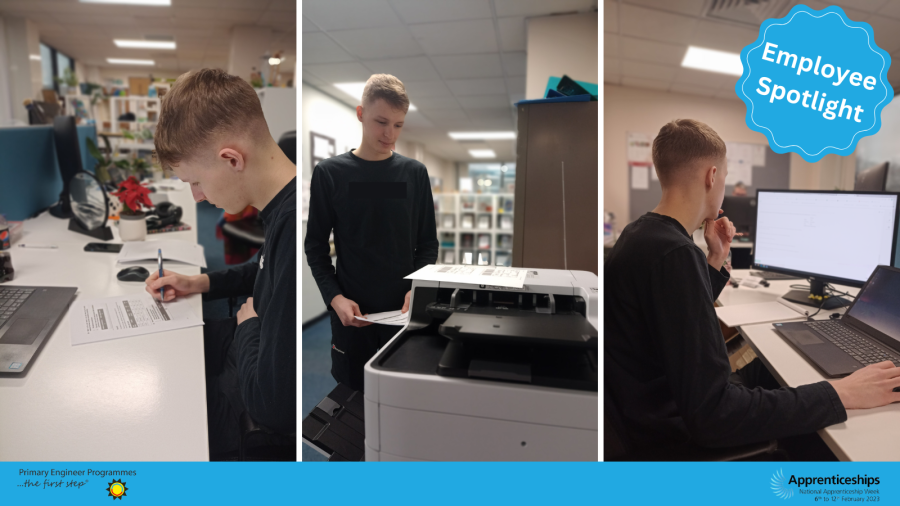 Employee spotlight – Chatting to our apprentice for National Apprenticeship Week!
National Apprenticeship Week (6th – 12th February) is an opportunity to celebrate the achievements of apprentices and highlight the positive impact they make to communities, businesses, and the wider economy.
We are sitting down with a hot drink to chat to our apprentice, Jack Burrows, to get his insight into his experience and the world of apprenticeships.
When did you join the Primary Engineer team and what does your role involve?
I joined the Primary Engineer team on 18th October 2022 as a Finance Assistant. My role involves supporting the accounting needs of the company, managing incoming and outgoing invoices, assisting with reporting and administrative duties. 
Why did you decide to become an apprentice?
I chose to become an apprentice as I much prefer the best of both worlds approach, learning at college whilst gaining experience in a working environment. The combination is widening my skill set, helping me develop skills a lot quicker and is an overall more enjoyable approach to learning.
The apprenticeship I'm currently on, Level 2 in AAT (Association Of Accounting Technicians), will set me on the right pathway to becoming a fully-qualified accountant and achieving my goals. Looking further down the line though, once I'm comfortable with my skills and knowledge, I'd like to own my own accountancy firm. 
What do you like about your job?
I enjoy working here for a few reasons! Everyone is really easy to get along with, it's such a calm workplace environment and I feel the organisation is run well which makes such a big impact on how enjoyable coming to work is for all the employees. In terms of my day-to-day work, I like ensuring everything is in order so it tends to be very satisfying having systems and processes in place to follow.
Most importantly though, I feel well supported here by everyone but in particularly by those I work closely with Jamie (Operations Manager) and Rachael (HR & Office Manager). 
What would you say to anyone considering an apprenticeship?
I would say to anybody considering an apprenticeship is, do it! In my opinion, it is the best way to learn as well as gaining all the experience at the same time. Going down the apprenticeship route has helped me develop my personal skills and career so much so far.
Primary Engineer sees the benefit in the professional development of our staff and our commitment to training is rewarding to see them develop their skillset and grow in confidence. Our apprentices have a unique place to learn about our work and help develop the Company as they do too. As we promote the development of children and pupils' resilience and curiosity, we promote the same in our apprentices as they embark on a life-long career of their chosen work. Jack has a fabulous future with us, acquiring skills and knowledge whilst working with our world-class partners!

Jamie McIlvenny, Operations Manager