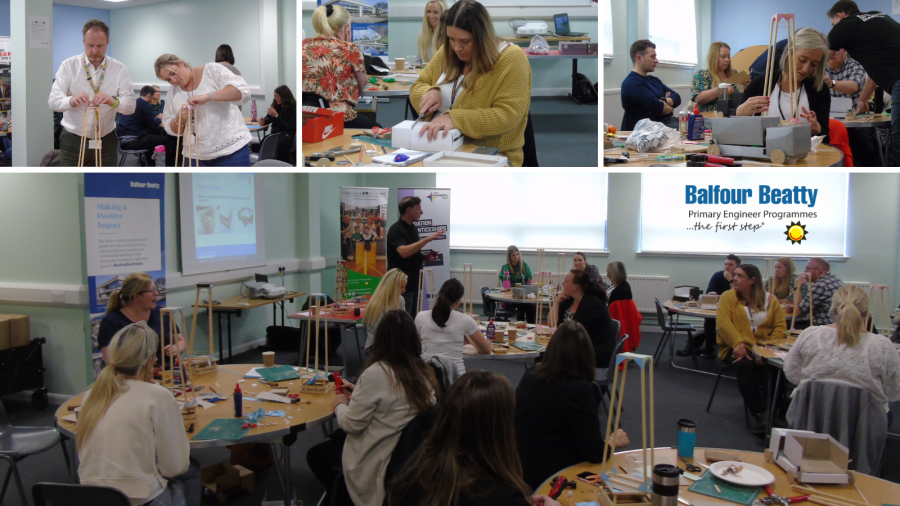 Why you should be a STEM volunteer!
Bring engineers into classrooms to work alongside teachers and pupils is a major part of our programmes. As part of our partnership with Balfour Beatty, several of their volunteers have been helping us bring engineering into the classrooms of 10 schools in North Lanarkshire with our Construction Project. We spoke to a couple of them about why they wanted to get involved in the project!
I wanted to support primary schools in North Lanarkshire as I was educated and grew up in the area, first as a pupil at St Columba's Primary (Viewpark) and Cathedral Primary (Motherwell). I was delighted to be paired with St Stephen's Primary School in Coatbridge as my Dad's side of family lived in whifflet and I still have family that live in area. It was great to visit the school as part of the primary engineer programme and see the pupils enthusiasm for the built environment and future construction careers. I'm looking forward to seeing the pupils final builds and celebrating their successes on the 14 March.

John Cairns – Social Impact Manager at Balfour Beatty
Growing up I never took the time to consider how the things I was good at and enjoyed related to a career path later in life. It wasn't until late on in High School that I considered engineering, which luckily turned out to be the right path for me. Engineering allows me to combine my passions of creativity and practical problem solving and allows me to see the results of my efforts in physical creations in the real world.

I wanted to take this opportunity to link with my children's school, Knowetop Primary School in Motherwell, to highlight these opportunities to young people as early as possible and hopefully plant a seed with them that engineering can be such a rewarding and varied career, and it is not all about high-viz and muddy boots. Yes, those who physically construct engineering projects play a vital role, however there are so many other jobs, skill sets and personalities that are needed in my industry and almost anyone can find a career in engineering if the built environment is something that appeals to them, or even if at a young age all they know is that they enjoy problem solving, being creative and building things.

Alastair Somerville – National Framework Manager at Balfour Beatty
I am partnered with Whiteless Primary which is my old primary school- it is also the school where my nephew is a P6. I wanted to go back to my school as I never met anyone who worked for an engineering company when I was a pupil and construction of huge projects in and around me always felt a little other wordly or even untouchable. I had no idea what skills/ experience/ personal traits you needed to become an engineer. I want to take the chance to go back to my old school to share my own career journey and showcase Balfour Beatty projects – hoping some wee fires might be lit in young minds!

Naila Wood – Head of Social Impact at Balfour Beatty
I have been supporting Dykehead primary school through both the lower and upper primary engineering projects. I previously met some of the Dykehead pupils at our Balfour Beatty sustainable evolution showcase events at our plant and fleet depot nearby the school. I knew immediately when the primary engineer opportunity came up that it would be fully supported by the whole school.

I was lucky that I knew from a young age that I wanted to work in construction, I was supported by my family and teachers to help me choose my path. Civil engineering is a very rewarding career getting to see the project you work on come to life and getting to use skills like problem solving and teamwork so it's great to be able to pass this message onto to the younger generation.

It's been a learning experience for all, personally I have enjoyed learning a bit more about trucks and simple hydraulics and have been able to use my experiences and share my knowledge of civil engineering.

Seeing the pupils faces and the excitement in the classroom is electrifying, they love to hear my work stories, and some have even expressed that they want to come and work in the industry in the future. My aim at the beginning was to share how amazing this industry is, and also show them that the industry has so many opportunities – one for everyone you could say, looking at the skills someone needs for work. This has been a really great opportunity to be involved with.

Bethany Welsh – Social Impact Coordinator at Balfour Beatty
We will be celebrate the pupil's builds at our celebration event in March with these schools:
– Rochsolloch Primary School
– Clarkston Primary School
– Tollbrae Primary School
– Eastfield Primary School
– Whitelees Primary School
– St Stephen's Primary School
– Dykehead Primary School
– Knowetop Primary School
– Cathedral Primary School
– Hilltop Primary School
We offer a variety of ways for engineers to get involved so please get in touch with us if you share our passion for inspiring engineers in the making!