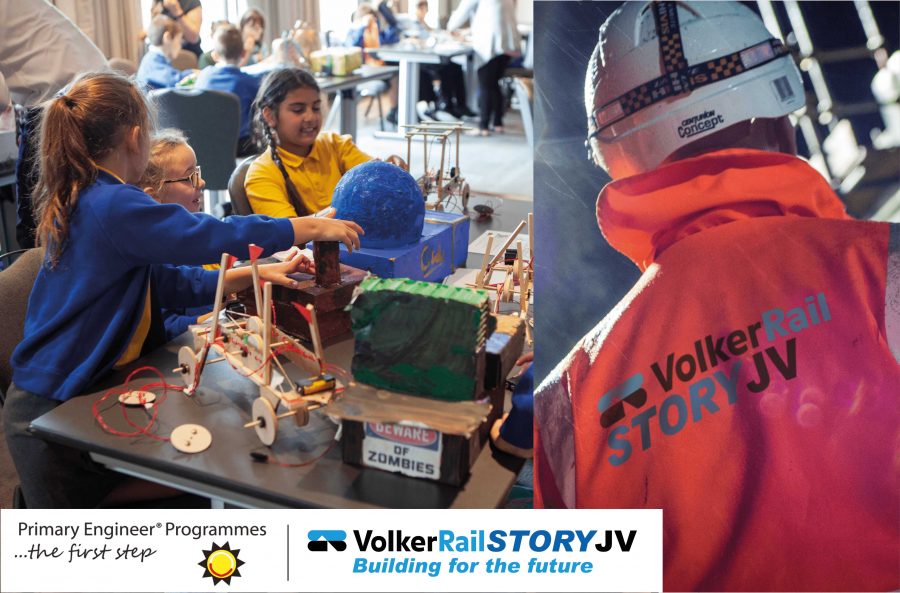 VolkerRailStory Joint Venture partner with Primary Engineer to inspire young engineers across Derbyshire and South Yorkshire
VolkerRailStory Joint Venture (VRSJV), currently delivering the Hope Valley upgrade programme on behalf of Network Rail, is collaborating with Primary Engineer to deliver a classroom-based rail project to schools across Derbyshire and South Yorkshire.
The project will see KS1 and KS2 primary school pupils design and construct trains with a variety of success criteria, as part of Primary Engineer's mission to develop children and young people through engagement with engineering.
As well as providing £8,500 of funding towards the programme for ten primary schools across the region, VRSJV engineers will volunteer their time to help support the projects with pupils and teachers in the classroom.
The partnership comes as part of VRSJV's commitment to deliver the Hope Valley upgrade programme which, once complete, will improve reliability for passengers travelling on the railway between Manchester and Sheffield. The participating schools will be situated along the Hope Valley railway line.
Whilst working in the area, VRSJV will also be undertaking a variety of community projects, including school engagement events and other opportunities for young people.
Martin Smith, VRSJV board member, said:
"We are looking forward to working with Primary Engineer to invest in the local community while we deliver the Hope Valley upgrade programme for Network Rail.
We understand how important it is to inspire young people through these types of STEM projects. By providing children with a real-world, industry perspective, we hope that our team of engineers can demonstrate the range of exciting career opportunities available, and ultimately foster and develop new talent within the next generation."
Dr Susan Scurlock, CEO and founder of Primary Engineer, said:
"The partnership with VRSJV provides an exciting opportunity for schools in Hope Valley to engage with the Primary Engineer rail project and be inspired by the engineering professionals from VRSJV.
There are incredible advances and new technologies happening in the rail sector which will inspire pupils not only through the project content but by linking to careers in the sector exemplified by engineers from VRSJV supporting in the classroom.
Using projects such as these to build creative, problem-solving, practical make and build and team building skills, increases the confidence and resilience of primary pupils. The delight of the rail sector is that it links comfortably with other subject areas too, especially history. Our inclusive, whole-class approach allows all pupils to identify themselves with engineering and the rail sector so we can start to make a step change early on as to who will consider engineering and the rail sector as a potential future career choice."
–ENDS—
About VolkerRailStory Joint Venture
The VolkerRailStory Joint Venture (VRSV) is comprised of two engineering companies, VolkerRail and Story Contracting. The Joint Venture is currently delivering the Hope Valley upgrade programme on behalf of Network Rail.
About Hope Valley
The Hope Valley project is an investment into the railway line between Manchester and Sheffield to make the route more reliable and improve passenger and freight journeys. The improvements include:
Installing a freight loop between Bamford and Hathersage
Signalling improvements along the line to improve reliability and speed up decision making in times of disruption
Making Dore & Totley station fully accessible with a new footbridge and lifts
Lengthening platforms to allow six carriage trains that run on the network to stop on the platforms
Replacing Hathersage West foot crossing with an overbridge to improve safety
About Primary Engineer®
Primary Engineer is an educational not-for-profit organisation which inspires pupils, parents and teachers through continued professional development courses, whole class project work, competitions, and engagement with engineering and STEM professionals to ensure the learning has a context to the wider world. Primary Engineer addresses the diversity and gender imbalance in engineering with an inclusive approach for early years, primary and secondary pupils across the UK.