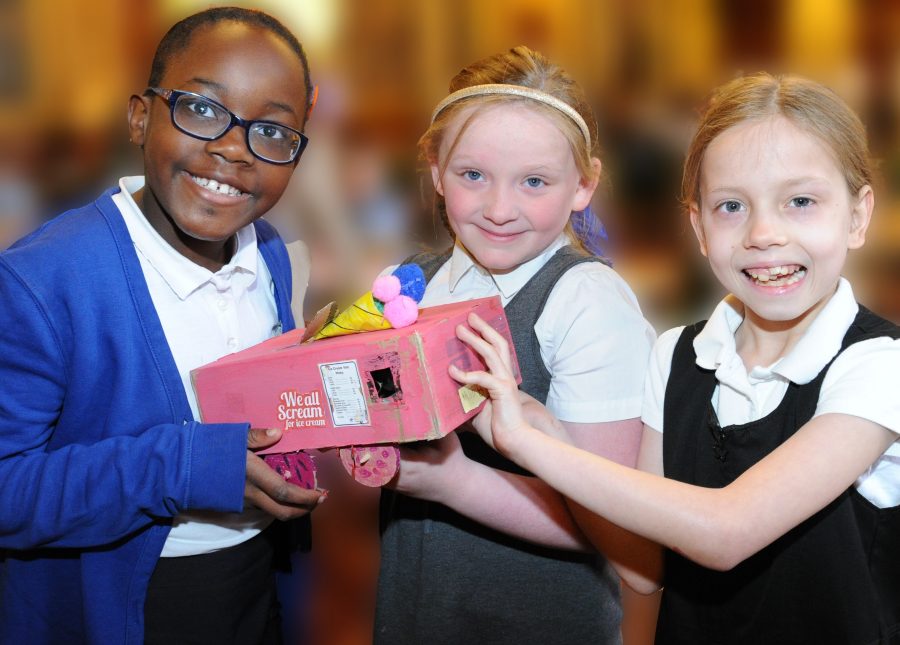 Thales joins Primary Engineer to inspire the future 'Engineers in the Making'
Primary Engineer® is proud to announce Thales as a funding partner for its programme in Belfast and Glasgow.
"Our partnership with Thales, over the years, has seen us working collaboratively with teachers and pupils in various UK locations where Thales engineering professionals have been supporting the Structures and Mechanisms with Basic Electrics projects in the classroom. The support from Thales in funding Primary Engineer for the fourth year in Structures & Mechanisms with Basic Electrics programme provides opportunities for teachers to build exciting project-based learning into their curriculum and to have purposeful engagement with engineering professionals from Thales" Chris Rochester, UK Director of Primary Engineer.
As a professional developmental course, Primary Engineer's Structures & Mechanisms with Basic Electrics brings teachers and pupils into the world of engineering. Adapted for virtual learning, Primary Engineer's course helps teachers deliver whole-class, curriculum-mapped projects that improve confidence in STEM subjects. Finishing the programme equips teachers with CPD training, access to classroom teaching resources and consumable tool kits for classes. Primary Engineer's programme is the first step in providing practical teacher training that introduces engineering to the classroom.
Charlene Simms, STEM Education and Outreach Manager, Thales said: "Thales feel it is important to take an active role with regards to Corporate Social Responsibility when engaging with our local schools. The project with Primary Engineer® allows us to share our expertise and knowledge with teachers so they can deliver an informative and fun activity to the students they work with. Teachers benefit from a full day of training from Primary Engineer which they can in turn share with their colleagues upskilling others. The school also benefits from receiving a class kit of resources which the Teachers can then use to run the activity they have learnt to deliver. By targeting young people at this early stage we can begin to highlight the importance of the STEM subjects and hopefully inspire them to carry on studying them at secondary school."
The continued support from Thales for both Belfast and Glasgow, enables Primary Engineer® to partner teachers with engineers, bringing real-world context to the classroom. Be it virtual or in person, the Structures & Mechanisms with Basic Electrics project bridges the gap between education and engineering, offering Key Stage 1 and Key Stage 2 opportunities to work with industry leaders through curriculum-aligned practical projects.
About Thales
Thales (Euronext Paris: HO) is a global technology leader shaping the world of tomorrow today. The Group provides solutions, services and products to customers in the aeronautics, space, transport, digital identity and security, and defence markets. With 83,000 employees in 68 countries, Thales generated sales of €19 billion in 2019.
Thales is investing in particular in digital innovations — connectivity, Big Data, artificial intelligence and cybersecurity — technologies that support businesses, organisations and governments in their decisive moments.
Thales in the UK is a team of over 7,000 experts, including 4,500 highly skilled engineers, located across 10 key sites. In 2018, Thales UK's revenues were around £1.7 billion.
About Primary Engineer®
Primary Engineer is an educational not-for-profit organisation that provides a suite of programmes to encourage children from 3 to 19 years to consider STEM and engineering careers. Primary Engineer inspires children, pupils, parents and teachers through continued professional development courses, whole class project work, competitions, and engagement with engineers and industry professionals to ensure the learning has a context to the wider world. Primary Engineer addresses the diversity and gender imbalance in engineering with early years, primary and secondary pupils.