Marine engines bigger than cars provided the backdrop to the latest round of Primary school Teacher training in Greater Manchester. ManDiesel in Stockport hosted a Primary Engineer training day for teachers from nine local Primary schools to learn how to deliver an engineering activity in their classrooms to children of various ages and abilities.
Liam Weatherill, Primary Engineer Regional Director, said "It is essential that we bring teachers into an industrial setting away from the classroom to give them an appreciation of an engineering environment. Many of the teachers have not had personal experiences of working within industry and coming to such an excellent venue affords an introduction to an engineering workplace. The training is centred on introducing engineering methodologies into the classroom through projects that are both competitive and curriculum-based."
The course title for the training day is 'Structures and Mechanics with Basic Electrics' and utilises these aspects of engineering to produce 'Shoe-box' cars with a range of complexities that are commensurate with the age-ranges and abilities of children throughout the school years. Teachers learn how to construct vehicles of differing functionality and format using tools, engineering processes and following direction, and also how to access the online resources provided by Primary Engineer necessary to run the activity in the classroom.
Jo Norwood, Primary Engineer Events Manager said "It is always a pleasure to see teachers grow in confidence during the training day and move from trepidation to excitement and show a real desire to start delivering the sessions within their classroom. Having engineer support on the day from ManDiesel also adds to the general understanding of why engineers do things in a certain way, and this will be replicated in the school classrooms where Engineers will join in with the teaching staff and pupils to work through the project."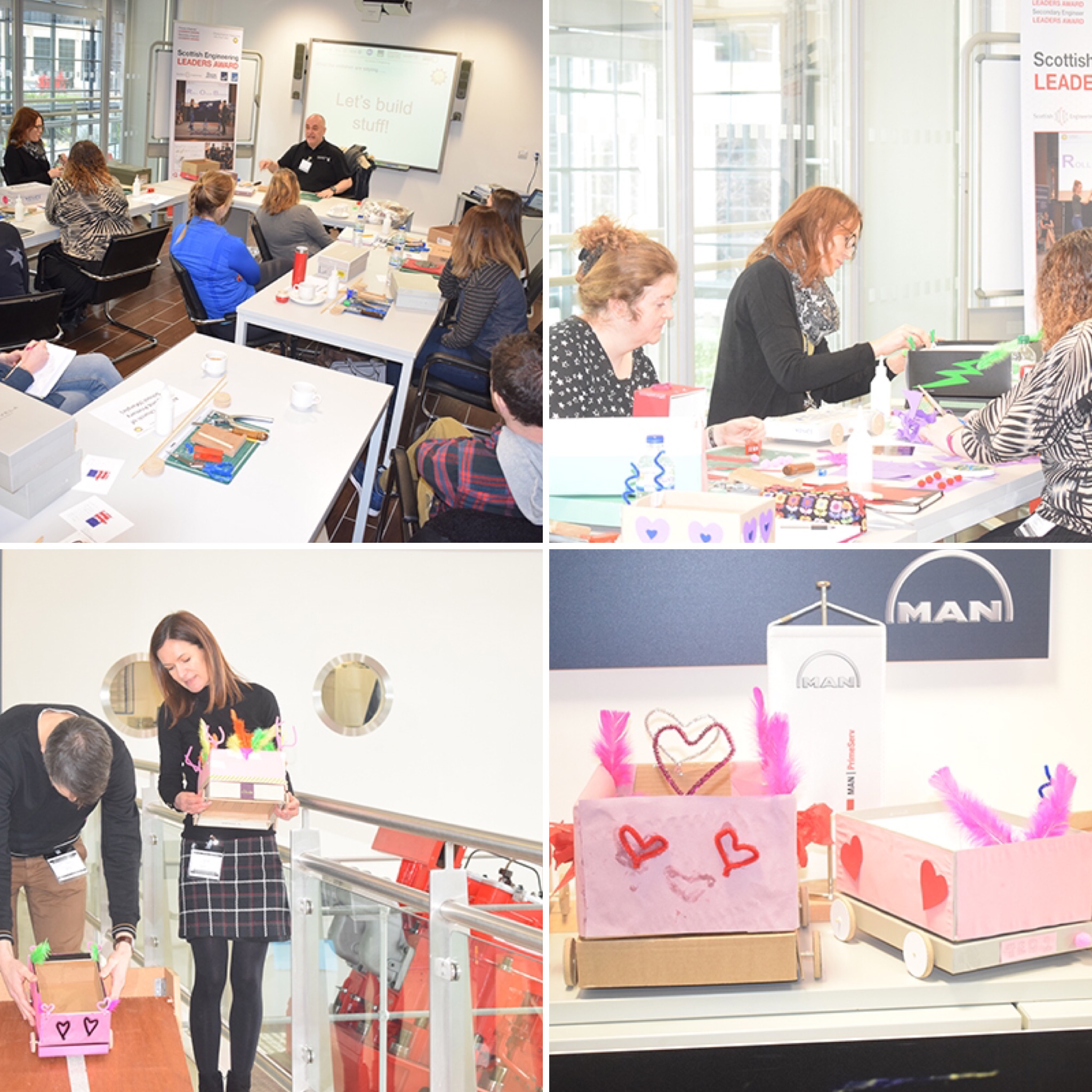 Dave Seneviratne, Science and Engineering Lead Teacher at Alexandra Park Primary school in Stockport, attended the day. "I'd like to thank Primary Engineer for providing such an amazing training opportunity. It has been really useful, engaging and inspiring. I can't wait to implement what I have learnt back at school."
The teachers will run the projects in their individual Primary schools with the support of their "Classroom Engineer". In addition to producing working vehicles, the Classroom Engineer can pose and answer questions to increase the children's knowledge of STEM and Engineering and provide a real-world aspect to the tasks they are undertaking.
Stockport Council has commissioned Primary Engineer to deliver the programme across nine local primary schools in addition to one Secondary school. The programme builds toward a Celebration event where all participating schools have representative teams across the age-ranges that compete against each other in a series of challenges. There are judging panels that consider all aspects of design, functionality and performance and winning teams are presented with their deserved prizes.
The ultimate aim of the programme is to inspire young people to find and solve those problems and understand the engineering methodology behind the solutions. Teachers increase their knowledge and understanding of how to deliver the tasks using tools and a range of resources and by doing this increase their confidence to repeat the process in subsequent years with this and other activities. The connection between industry and schools formed through the relationship with the Classroom Engineer is an important benefit, and the programme can play a significant role in giving young people an appreciation of the opportunities of what a future in STEM, and especially engineering, can bring.