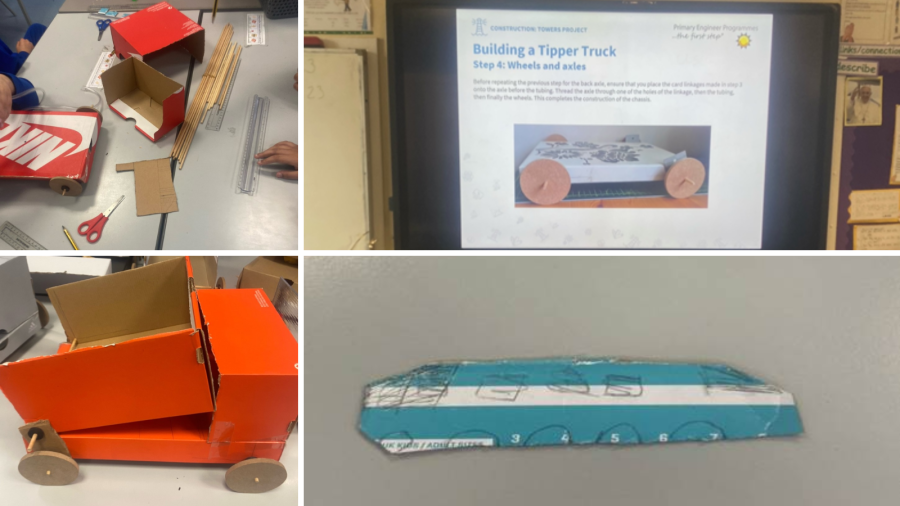 Laing O'Rourke engineer inspires students at school!
Ada Nwadigo, a Civil & Geo Site Engineer from one of our partners Laing O'Rourke, recently visited St Edward's Catholic Primary School to help the teacher and a class of Year 3 and 4 students with our Primary Engineer Construction Project.
When talking about her experience after the event, Ada said;
"We built 14 tipper trucks using cardboard boxes and other equipment, and it was an exciting opportunity to introduce them to the world of engineering."
"We spent the whole day building the project, and I must say it was an incredible experience."
"I was thrilled to see how enthusiastic the students were about the High Speed 2 project. It was fantastic to hear their ideas and see how they interacted with each other during the project. One student was so inspired that she drew a train as a gift for me, which I found incredibly touching."
"The highlight of the event was seeing the students so excited about engineering."
"One student even exclaimed, "Engineering is so cool!" It was a truly rewarding experience to see the impact we could make in the lives of these young students."
"I am grateful for the opportunity to participate in such an event, and I would like to thank the Primary Engineering Team, Kerry and Caroline for creating such a unique opportunity for the students."
For many students, this would have been the first step into the world of engineering and the first introduction to a real-life engineer which is why offering meaningful engineer engagement for school is so important. We are delighted everyone involved had an amazing time constructing the builds and we can't wait to see them all at the celebration event!
We offer a variety of ways for engineers to get involved so please get in touch with us if you share our passion for inspiring engineers in the making!