Rail Project Registrations
We work with industry partners who enable us to offer professional development for two teachers, full kit for their classes and digital teaching resources to provide a fun, exciting and engaging STEM based project for pupils. This includes a celebration event and places engineering in the classroom whilst meeting curriculum requirements.  ​
​The one, full-day training event is offered to teachers is highly practical and informative, resulting in an increased confidence in delivering this whole class project, enthusing your learners and linking you to practicing engineering professionals. Models made on the course will act as exemplar resources in the classroom. ​
​The programme will enable your learners to use and apply cognitive and practical skills developed in maths, science, design and technology and literacy through an engineering theme. This cross-curricular, project-based learning approach supports pupils/learners to design, build and test their own vehicles. ​
​The Primary Engineer Rail Programme will enable you to deliver a whole-class, curriculum-mapped engineering project and be partnered with a locally based professional engineer to support the classroom delivery and provide context for the project where possible.​
​
Resources:
A box of tools and consumable resources sufficient for two classes to build locomotives working in

pairs

​

Digital teaching resources are available to support delivery in the classroom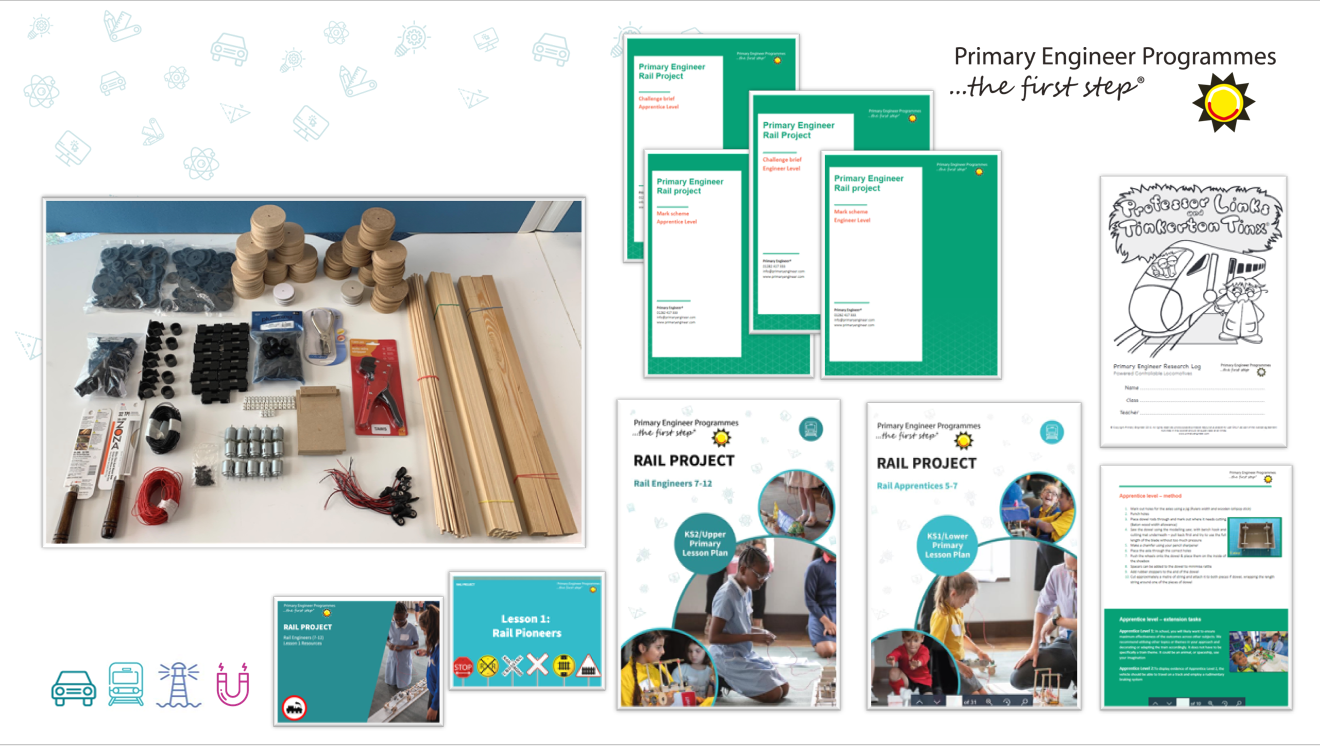 Outcomes:
Professional development training for up to two teachers (one from KS1/lower primary and one

from KS2/upper primary).

​

Understanding how to use the tools and resources provided with the course for use in the

classrooms.

​

Models made on the course are to be taken as exemplars for use in class.

​

Awareness of the teaching resources available and how to engage an engineer to contextualise the

learning.

​

Fully rounded course which can be embedded into the curriculum and complement learning across

a variety of subjects

​

Meet your curriculum requirements for D&T and focus science, maths and literacy skills.

​

Improve resilience, problem-solving, through the creative design process.

​

Improved confidence in designing and making products that are fit for purpose.

​

Learn how to integrate simple electric circuits into a working models.

​

Engage pupils/ learners with engineering professionals.

​

Bringing teams to the Primary Engineer Rail Programme Celebration Event
We are currently delivering the 22/23 project with the help of our partners, who include:
Want to know more or get involved? Register your interest below!
Fully Funded CPD Course
Join us on our fully-funded one day practical CPD course for our Primary Engineer Rail Project which will enable you to deliver a whole-class, curriculum-mapped engineering project and be partnered with a professional engineer from local companies in the area to work with you on the training day and after with pupils in the classroom!
Tools and kit to run the project with pupils is also included and lesson plans and additional resources are available to support the project in the classroom
Teacher Feedback
"The day was absolutely amazing. Nick did an amazing job delivering the course. He made the sessions very comfortable, he was able to answer all questions and give so many ideas for delivering it into the classroom. I was very impressed and I am excited to be able to implement this in the classroom and in a whole school way."
"Excellent course and brilliant host!"
"Such a great CPD session. Thank you!"