Leaders Award 'If you were an engineer what would you do?' competition takes-off in Cumbria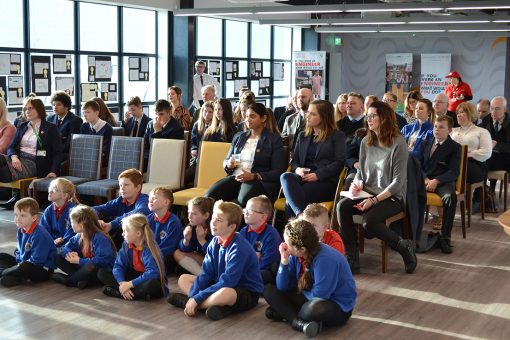 The Carlisle and Lake District Airport provided an excellent venue for the official Launch of the Cumbria Primary engineer and Secondary Engineer Leaders Award competition "If you were an Engineer, what would you do?".
Funded and supported by the University of Cumbria, the Launch was attended by representatives from industry, academia, local government, the voluntary sector and professional institutions. Local pupils from Longtown and Hayton Primary schools were joined by students from Beacon Hill Secondary school, Wigton, engaging with attending engineers from Stobart and other guests, who talked about their roles in engineering.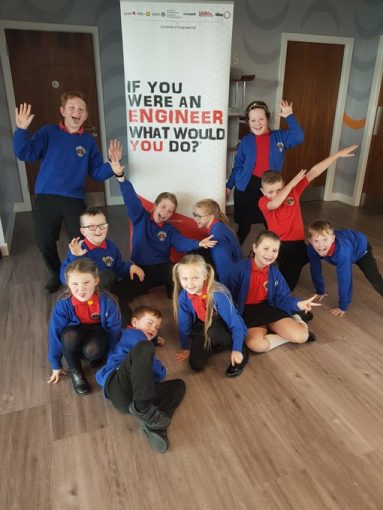 The children then showcased the competition, when asked the question "If you were an Engineer, what would you do?", and set about identifying a problem of their own – choosing and drawing both innovative and creative solutions.
There were designs to solve problems identified that made it easy to feed pets, help people with disabilities and increase the comfort in car travel, among many others. All were admired and discussed with the guests.
This is a task completed in regions across the UK and is collectively the largest engineering design competition for children in the country. In 2018/19, over 49,000 entries were received from children aged 3 to 19 years from schools across the British Isles.
Liam Weatherill Regional Director, Primary Engineer said. "We are delighted that through the generosity of the University of Cumbria we are able to run the competition in Cumbria and invite all Cumbrian schools to participate.
Being able to Launch the event at the Carlisle and Lake District Airport provides a great venue and, with a perfect view from the terminal building, shows engineering in action as aircraft arrive and depart".
Nigel Smith, STEM Lead for the University of Cumbria, said "We are delighted to be supporting Primary Engineer in Cumbria to enable children from across the region to take part in this fantastic competition.  The University of Cumbria is very focused on introducing young people to the many opportunities studying engineering and choosing a career in industry can bring, and this competition introduces the children to engineers, which is a great first step".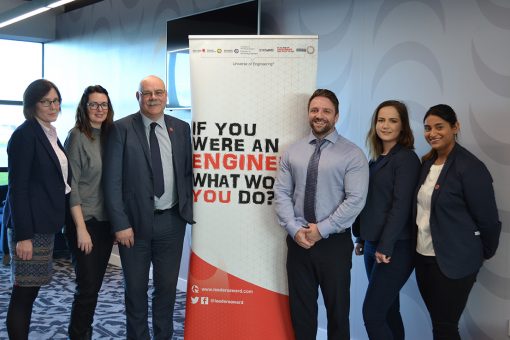 The Launch included presentations from (Left to right): Kate Dixon, Head of Recruitment & Portfolio Development (University of Cumbria); Emma Guy, Business Development Manager (Institution of Mechanical Engineers); Liam Weatherill, Regional Director (Primary Engineer); Andy Lucas, Director for Rail and Civil Engineering (Stobart) and Stobart Graduate Trainee Engineers Michaela Silver-Woods and Anouchka Valaydon.
Andy Lucas was very impressed with the Launch event and programme: "Stobart are very excited about providing engineer support to schools across the region, as it gives our engineers an opportunity to inspire children to consider engineering as a future pathway. Michela and Anouchka have really enjoyed working with the children and presenting to the audience. We very much look forward to our engineers taking part by visiting schools, providing online presentations and grading the entries from Cumbria schools."
Winning entries from the previous year from other regions were displayed in a mini-exhibition and perused by all who attended.
The competition will be closed to entries from Cumbria schools on 25th March 2020 and winning entries will be selected by a panel of judges from local industry and the University of Cumbria.
Presentations will be made at the Awards event, hosted by the University of Cumbria in June 2020, where all schools entering the competition will have entries displayed in the Cumbria public exhibition.